Opticare Division




› As a part of our Social Services, in our Medical Centre, we have started OPTICARE DIVISION.

› Functions to provide affordable and high-quality spectacles to the marginalized Sections of the society.

› Optical showroom available in the following Location's : -
OPTICAL SHOWROOM WORKING HOURS

LOCATION
ADDRESS
ORDER BOOKING
DELIVERY OF COMPLETED ORDERS
CONTACT NUMBER
SINGANALLUR
SF NO: 128/2(2249), Trichy Road. Coimbatore-641005
9.30 AM TO 8.00 PM
9.00 AM TO 8.15 PM
8489933136 8489933137
SAIBABA COLONY
NO: 115, NSR Road, Saibaba Colony. Coimbatore-641001
09.30 AM TO 8.00 PM
09.30 AM TO 8.15 PM
8489911400 8489911401

DOCTOR CONSULTANCY

| | | | | |
| --- | --- | --- | --- | --- |
| LOCATION | LOCATION IN THE BUILDING | MONDAY TO SATURDAY | SUNDAY | CONTACT NUMBER |
| SINGANALLUR | MEDICAL CENTRE "B" BLOCK FIRST FLOOR | 8.00 AM TO 7.30 PM | 8.00 AM TO 12.30 PM | 8489933118 8489933183 |
| SAIBABA COLONY | FIRST FLOOR | 09.00 AM TO 7.00 PM | NO CONSULTANCY | 8489911400 8489911401 |

Above mentioned timings are subject to change without prior notice. Customers are requsted to call the respective numbers and get confirmation to avoid inconvenience.

1. Latest Eye Checking Equipment

Qualified eye Doctors (Ophthalmologists) and Optometrists with the latest eye checking equipments like Auto Refractometer/Keratometer,Slit Lamp,OCT,NCT,etc.... are available.

a. Computerized Eye Check-Up (At a nominal cost of Rs.30)

Computerized eye check-up includes measurements of the spherical refractive power, cylindrical refractive power and direction of astigmatic axis, as well as the radius of curvature of the corneal surface, direction of the corneal astigmatic axis are done using latest equipment like Auto Refractometer /Keratometer AR with KR 800, RM 800, etc with high accuracy & perfect measurements within a minute using digital technology.

Note: We would like to emphasize that it is only optional and not compulsory to buy optical frames (or) lens in order to do this eye check-up

b. Testing glaucoma fields and neurological fields

Haag-Streit Octopus 900 is used for testing and diagnosing glaucoma and neurological field defects.
› All-in-One Perimeter:

Standard Automated Perimetry, SWAP, TOP

› Fast Test Strategy:

Full threshold test within 2 ½ minutes

› Reliability:

True fixation control and automated Eye Tracking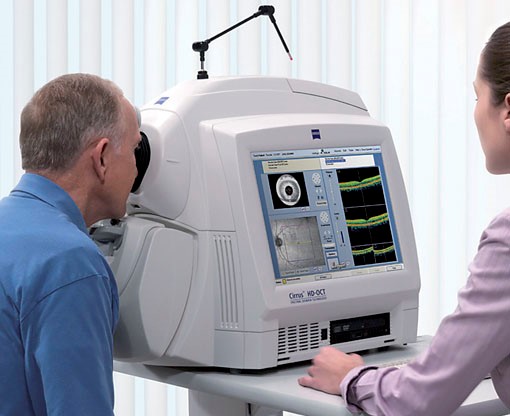 c. Retinal imaging
Scanning your eyes in 3D and analyzing your retinal structure, analyzing the macula, optic nerve head, and anterior segment pathology are seen in detail using the Zeiss Cirrus HD-OCT 3D retinal imaging. This instrument can visualize your eyes in 3D and show the simple clear pictures, can help to detect, monitor for follow up of any condition and visual disability.
d. To measure the intra ocular pressure (IOP)-NCT
Traditional tonometer makes contact to eye, but Topcon NCT (Non-Contact Tonometer) emits gentle puff of air into the eye which measures the time taken for the air to flatten the small area of the cornea and return to instrument. Can be done by any technicians and does not touch the eye so there is no contamination.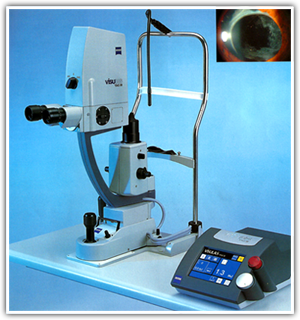 e. Treating Angle closure glaucoma's and PCO (Posterior Capsular opacification)
Zeiss YAG III laser is used for treating angle closure glaucoma's and PCO (Posterior Capsular Opacification). It is used in angle closure glaucoma by creating an opening in the Iris- Peripheral Iridotomy (P.I).PCO- which in formed in the posterior capsule after IOL implantation after cataract surgery.
2. INFRASTRUCTURE
1. Spacious Retail Showroom:
A large optical retail showroom (5000 Sq.ft fully Air Conditioned) to service the customers with different types of frames in various price ranges. All types of Optical Lens & Frames, sunglass & Contact Lens are all available at ECONOMICAL PRICES.
2. Latest Instrument for obtaining PD Measurement: (First of its kind in Coimbatore)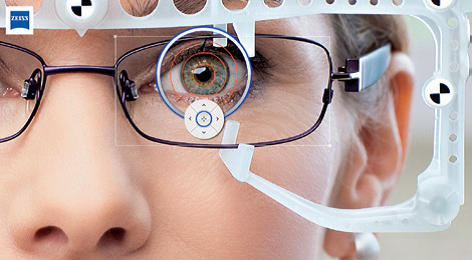 The ZEISS i.Terminal® 2 is an electronic instrument used to obtain centration data for corrective eye glasses, and for frame fitting. Fast photo acquisition, measurement and evaluation of all fitting parameters in 60 seconds. It provides reliable and accurate results, regardless of prescription, frame or fit, including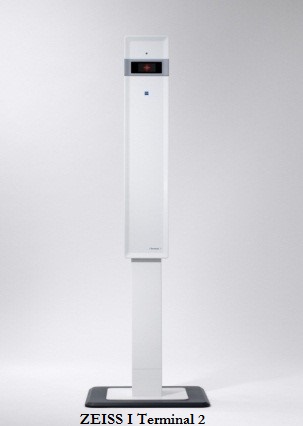 › Accurate Eye measurements for top class spectacle dispensing
› Measure all the details of eye required for fitting a spectacle lens into a frame
› Uses a high end industrial camera for clear crisp image which gives accurate value
› Laser Speckle used as target for accurate distance PD measurement
› Head movement compensation available
› One stop solution for all type of lens design Single Vision, Bifocals and Progressives.
3. Sophisticated Lens Manufacturing Unit - Free Form Digital Optical Rx Lens Manufacturing Lab (First of its kind in Coimbatore)
For Manufacturing Ophthalmic Lenses based on Prescriptions, an imported, Digital Freeform Lens Manufacturing Unit (7000 sq.ft) with the latest equipment from Germany at a Cost of Rs.7 crore to manufacture different types of lenses include single vision, bifocal, progressive-photo chromatic and polaroid lenses is available.
Supporting this are full-fledged Checking & fitting equipment imported from Belgium at a cost of ₹ 1.5 crore rupees.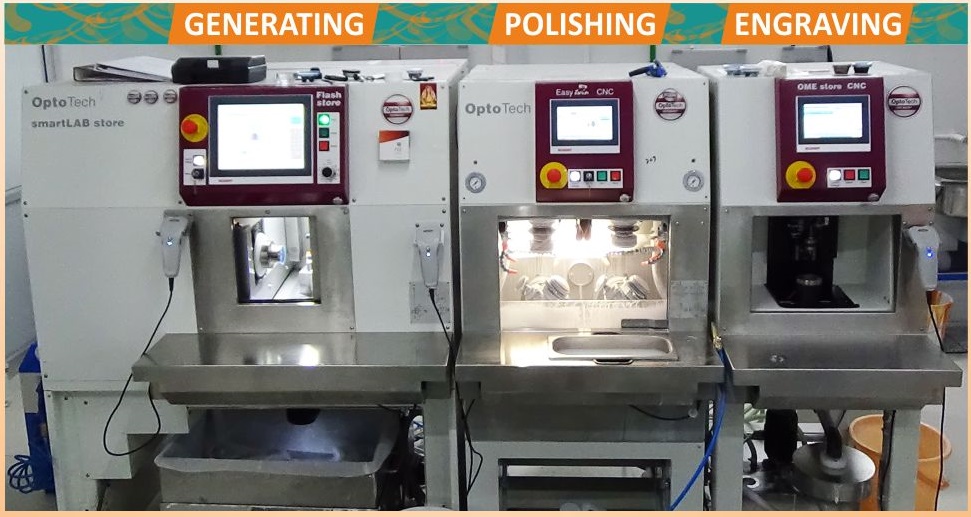 Some Highlights of the smart LAB superstore:
Revolutionary Fast Technology - High-End RX prescription lenses
Green Production concept - All processing machines use a revolutionary clamping technology that has no negative impact on the environment.
Groundbreaking Design Concept - Full integration of Lens Design Software Eye Wizard for easiest and intuitively operation via I Pad
Highest process stability due to the use of tested components and technologies for premium lens quality
Digital AR-coatings in premium quality (Super coating) for maximum individualization of the lenses
4. Quality Inspection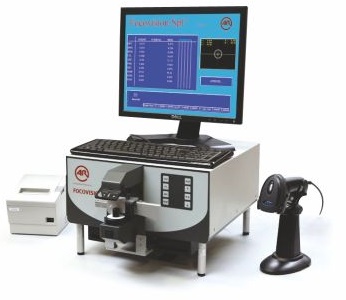 High-tech quality inspection machines like SG-2, SPV-2, SPF-2 & Spectrophotometer are available for checking the lens quality for ensuring the best quality product is supplied to the customer.
Focovision SG-2, SPV-2:- This instrument measures the lens optical power by using a light beam at a certain wavelength and by measuring in all directions (360 degrees), and
SPF-2: - The Focovision by Transmission SPF-2 is used in optical laboratories to measure the lens optical power where the lenses are mounted into frames.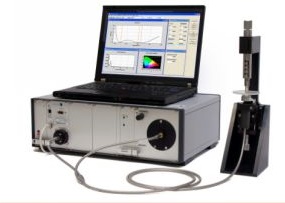 Spectrophotometer: - The OptoTech Spectrophotometer ETA-ARC AT is a fast, precise and easy-to-use non-destructive measuring system for thin film coatings on curved substrates, e.g. for anti-reflection coatings, hard coatings, and interference filters.
5. Fitting Technology
High-performance, latest & sophisticated Edging machines like NEKSIA, KAPPA CTD, etc., are available for quality fitting of lens in frames.
It is ensured that all the lens are fitted using the automatic fitting machine where the grooving, chamfering, drilling & slotting is done accurately. These equipment help in:
FAST, EASY AND EXTENDED FRAME TRACING: Helps you trace any type of frame effortlessly, including children frames, small B-size and large A-size frames.
AUTOMATIC DRILLING-HOLE RECOGNITION: Achieves even greater productivity due to automatic detection of drilling holes and flat bevel shapes.
CONVENIENT CENTERING AND BLOCKING: Make centering and blocking straightforward and precise.
CONSISTENTLY INTELLIGENT CHAMFERING: With the flexible chamfering wheel, the pressure applied to the wheel adapts seamlessly to the lens edge depending on the shape and curve of the lens.
IMPROVED AXIS ACCURACY: By combining new edging-cycle algorithms and cutting-force regulation, optimal results are guaranteed whatever the edging situation.
BEST AUTOMATIC CYCLES: For 90% of the jobs, all it takes are a few clicks to achieve a perfectly calculated bevel, groove or drilling cycle.
For your Information
Spectacle Cleaning - DO's & Dont's
› Rinse the Lenses under warm running water. Wash the entire frame, including the nose pads.
› Don't use too much water pressure or you may ruin your glasses.
› Do not use citric-based detergent or dish soap. This can damage the glasses.
› Try to avoid using rough material to dry your glasses because this could cause scratches.
› Use a good quality cloth designed for lens cleaning. It is good to dry glasses with microfiber cloth.
› Always remember to clean your glasses at night before bed.
› Buy a case for your glasses to keep them clean, and ready for use.
› Use caution and use both hands to take your glasses off and put them on.
Good Eye Care Tips
› Clean your eyes with pure cold water regularly. This is one of the best ways to keep the eyes healthy & disease free.
› Avoid looking at the sun directly, artificial lights or shining objects. Direct rays of bright light can damage the retina. Avoid excessive UV exposure.
› Rolls your eyes up & down, then side to side& move your eyes in a circular motion. Repeat this exercise 5 to 10 times a day to relax your eyes.
› Maintain a good distance from the computer screen – sit approx. 22-28 inches away from it. Sitting too close or too far may increase strain on your eyes.
› Change all hand-held games to outdoor games.
› Quit smoking.
› Eat a Healthy & balanced diet..
-------------------------------------------------------------------------------------------------------------------------------------------------------------
Contact:
S.F.No.128/2, (2249),
Trichy Road, Singanallur,
Coimbatore – 641 005.
TamilNadu, INDIA.
| | | |
| --- | --- | --- |
| Landline | : | +91 422 / 2205500 |
| Mobile | : | +91 8489933136 |
| E-mail | : | opticare@shanthisocialservices.org |